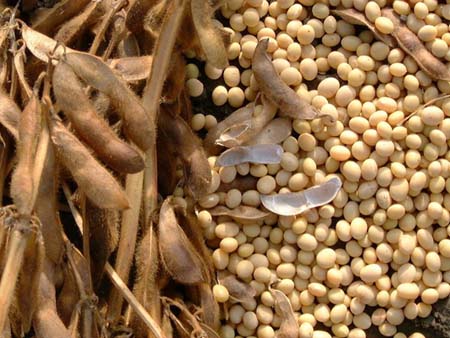 Last week we covered some potentially intestinal foes (gluten and phytic acid), but today we'll look at some more anti-nutrients (and I'll warn you now that soy is about to take a beating, sorry vegetarians). Let's just jump in; first up:
Protease inhibitors: clearly they inhibit something; in this case enzymes needed for protein digestion. The most infamous is trypsin found in soybeans, beans, gains, nuts, seeds, vegetables in the nightshade family (potatoes, tomatoes, and eggplant), and other fruits and vegetables. In most cases cooking will deactivate these inhibitors, but raw diets and salads are hugely popular of the moment. The soybeans, though, have to be more troublesome and resistant to cooking and processing. It appears that only fermentation is close to deactivating most of the inhibitors. What's sick is that they're found highest in soy formulas (poor babies) and soy protein concentrates. Ok so heat will deactivate, right? Wrong and actually too much heat damages the methionine and lysine (amino acids) and in extreme cases the protein is damaged making it hard to digest and assimilate. Worse manufacturers use alkaline solutions, lysine (essential a.a) can turn toxic in the form of lysinoalanine. Many may not think these are problems, but for babies on soy formula, vegetarians and people who eat soy every day, it becomes a problem. Bad news for the pancreas as well. We often seen soy protein and oil in conjunction with corn oil in 'health foods' and this spells disaster. The inhibitors stop the pancreas from producing trypsin and proteases, so the body reacts by increasing the number of pancreatic cells and size. Over time this places stress on the pancreas daily, leading to increase risk for pancreatitis and even cancer (rising pancreas stats can be testament to this).
Lectins: oh this one just sounds unappealing talking gucky glue. Lectins are intended to help plants grown and once the plants die then they become useful fertilizer. They found predominately in soybeans, beans, and grains (damn soybeans again). These pests do not breakdown and 60% remain active and intact. Then they'll bind with your villi and crypt
cells where they may:
contribute to cell death
shorten villi
diminish capacity for digestion and absorption
cell proliferation in crypt cells
interfere in hormone and growth factor
Then it does further damage by robbing proteins for growth and repair elsewhere to repair the intestines instead. If that's not enough, it may sneak out of the 'leaky gut' into general circulation creating allergic reactions and disrupt your immune system. If this isn't enough, they can provoke shifts to your flora, like overgrowth of E. coli, streptoccocus, and lactobacillus. They can gain power in the presence of other anti-nutrients (hence more grains, legumes, and beans). The most problems happen to people who lack variation in their diet. Intestine health is key because a leaky gut means lectins are 3-4 times more likely to get into your bloodstream (sounds nasty)
Saponins: active components that foam in water (yuck, think soap in your mouth). They're found in soybeans, chick peas, other beans, alfalfa and other plants. To humans they pose a risk to the intestinal mucosa. Cholesterol binds to the saponins and can injury the intestines, leading to again a 'leaky gut'. The real problem is that other allergens cause similar problems, so we're dealing with a cumulative risk, where saponins are not helping. Other problems:
break down red blood cells (hemolysis
inhibit enzymes like succinate dehydrogenase (citric acid cycle important for nutrient absorption, healing, and growth.
disturbs digestive enzymes (trypsin and chymotrypsin)
may lead to thyroid enlargement
Unfortunately cooking methods will not remove them, alcohol is the only way to extract them.
Oxalates: this one is a little tricky, but very interesting all the same. The leading problem
here is kidney stones. It is the salt from oxalic acid that can deposit (not just in the kidneys but throughout the body) and form kidney stones (80% of them are caused by oxalates, and 10-15% of the population will be diagnosed with a kidney stone at some point). A majority of the stone is composed of oxalic acid, the remainder is another compound, like the ever-so friendly calcium. Something interesting is that it especially like to bond with toxic metals (mercury and lead), which is why it may be related to so many diseases. Also fascinating is that 1 in 5 have the genetic deficiency enzyme AGXT and that this enzyme works better in the presence of B6 (hmm. . .). High levels of oxalates are found in: soy protein, spinach (blend more lettuces in with your daily salads, as they contain less), tofu, peanut butter, peanuts, pecans, lemon and lime peels, rhubarb, parsley, sweet potatoes, black pepper, chocolate, instant coffee, okra, and wheat germ.
Important lesson today: be aware of anti-nutrients present in foods. Steer clear of soy, legumes, beans and grains. Also look at food preparation, cook vegetable and vary your intake of fruits and vegetables. Don't forget to eat them in conjunction with meat, eggs, seafood, raw dairy and fats from grass-fed animals. For more on our fat-burner wight loss programs check out our website at bodychange.net.